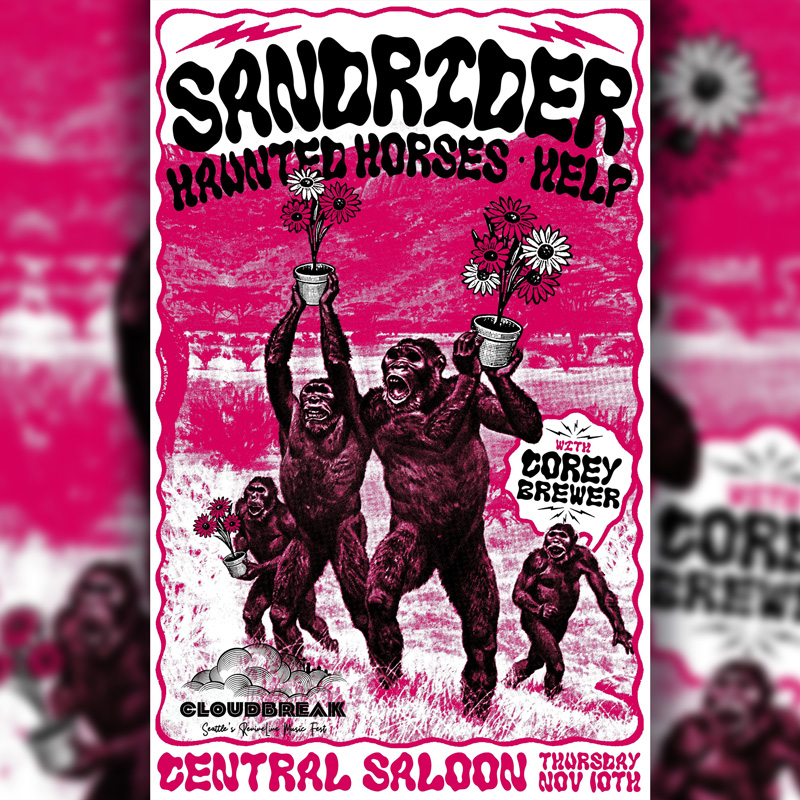 Date
Nov 10 2022
Expired!
SANDRIDER / HAUNTED HORSES / HELP / COREY J. BREWER
Cloudbreak Music Festival Presents:
https://cloudbreakmusicfest.org/
***SANDRIDER***
https://sandrider.bandcamp.com/
Sandrider is an American grunge metal band from Seattle, Washington. The band is currently composed of former Akimbo band members Jon Weisnewski and Nat Damm, as well as Jesse Roberts from The Ruby Doe. As of 2016 the band has released three full-length albums and a split EP with Kinski on Good to Die Records.
***HAUNTED HORSES***
https://linktr.ee/hauntedhorses…
Haunted Horses is an industrial-punk trio hailing from Seattle, WA. Their sound is thunderous and chaotic, utilizing a wall of noise techniques through an onslaught of keys, guitars and drums. Myke Pelly's off kilter drumming and Colin Dawson's architectural noise structures create jittery post-punk that is both upbeat and gloomy.
***HELP***
https://helpifuckingneedit.com/other-shit-1
Help is the frenzied sound of a broken and collapsing society. In a world beset with anti-human reactions to daily struggles, Help responds with ways to dismantle evil machines and systems: Remove fear from decision making. Act in defiant joy. Refuse to dominate others. Do not hoard the gifts of the universe. The future is uncertain. Ends don't justify means. Solidarity now.
***COREY J. BREWER***
http://www.coreyjbrewer.com/about
"Seattle keyboardist/vocalist/composer Corey J Brewer has proved himself adept at scoring films with his alternate soundtrack to Stanley Kubrick's The Shining at Northwest Film Forum last year and appearances at Andrew Crawshaw's :||Depths||: night at Substation. And the skills that he flexed in those contexts surface on his new album, Upside Down Tulip. On these nine songs, Brewer sings in his deep, glum voice (think Stephin Merritt and Tindersticks' Stuart Staples) over enigmatic keyboard progressions and drones, and rhythms that both snake with quasi-gamelan litheness and rejuvenate triphop tropes. Brewer's compositions embrace romantic moods while eluding clichéd evocations of this common songwriting construct. That takes serious skill." – Dave Segal, The Stranger.
Sadly HELMS ALEE had to cancel due to a family emergency.